Rubber Surfacing In Day Care Centers: Answering The What, Why And How
Working parents with young kids around the US have often been seen worried about their ward's care once they decide to join back the workforce after maternity and paternity leaves. In cases of adoptive parents as well, those looking to get back to their jobs post the adoption leaves can also be witnessed pacing about, trying to find the best solutions that suit their requirements. While some end up hiring babysitters and nannies, there are many who resort to putting their young kids in daycare centers and creches.
A Day Care Center is at its core exactly as the name suggests. It enrolls children in exchange of a small fee and looks after them while their parents and guardians are working. However, that is not the only function a Day Care Center performs.
Safety
The primary aim and purpose of such a center is to ensure a safe and secure environment with trained personnel so that the parents can work in peace, assured of their kids' well-being.
Learning
The caregivers attempt to provide a conducive space for the learning activities of young children. This education involves both early academics like memorizing alphabets, numbers, names of colors, fruits, body parts, and even poems alongside co-curricular activities like drawing, dancing and such.
(Source)
Health
It is one of the foremost responsibilities of a center to ensure that the kids are well looked after and are healthy. If anyone falls sick or is feeling unwell, it is their duty to take care of them till their guardians arrive to pick them up. In case of emergencies, they are also permitted to take the kid to the nearest medical facility but cannot make any decisions in the place of parents.
Socializing
Humans are social animals and the ability to make friends is one that develops at this early age. While those put in the care of nannies also are looked after in terms of safety and health, socialization is often not possible in those cases as they have no other kids around them of a similar age group. This can hurt their potential of being able to find friends in the future. A Day Care Center tries to negate that possibility.
Why Should Day Care Centers Have Rubber Surfacing?
Now that we know why a daycare is good for children and why guardians should consider putting their ward in one, it is also important to make sure that these creches are worthy.
But as a manager of such a center, what can you do to see to it that your establishment is?
One thing that comes to mind is an element that most such facilities miss, and that is the flooring.
While most such child care homes take special care of their infrastructure to be more welcoming and inclusive for all, the floor of the place is often taken for granted. And as an enterprise that specializes in this feature, we would like to extend our expertise on the matter for your institution.
In our experience and knowledge, we have time and again noticed that the best kind of floor for centers dealing with children are those that are rubber-based.
Now, there can be two types of surfacing even within the rubber category. One is Rubber Tiles, and the other is popularly referred to as Poured-In-Place. Why we consider Rubber flooring appropriate for a daycare center, playground or school can be easily understood from the following reasoning.
Provides Traction
Rubber floors can be considered safe when they meet the standards set by American Society for Testing and Materials (ASTM). Unlike traditional flooring of wood and marble, they provide the kind of friction that renders the surface slip-proof for young kids who might want to run around all day. Installing them beforehand is a good way of avoiding accidents.
Cushions Fall
Being shock-absorbent is an inherent quality of rubber and that comes in handy when looking to soften a fall. Both tiles and poured-in-place are adequate measures for the same as they can be layered to increase the surface's thickness and thus, cushion a fall from upto 10 feet.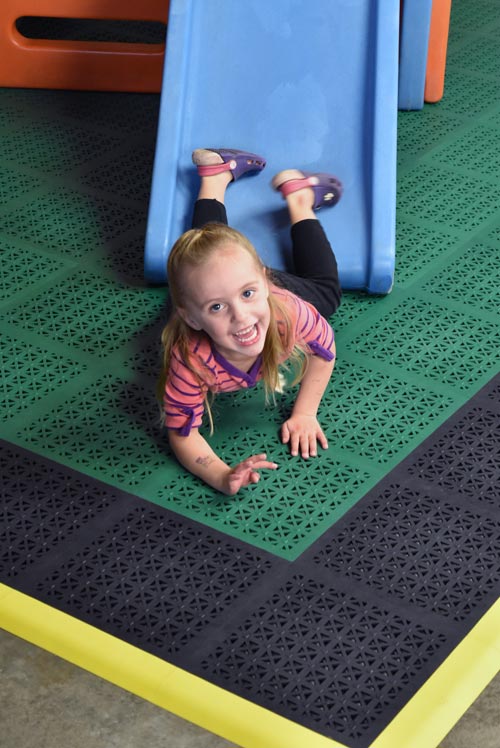 (Source)
Durable
Rubber is a long-lasting component and a poured-in-place flooring can last easily upto 10 years without any high-end upkeep. In fact, if cleaned regularly with proper care instructions, its life can be extended even upto 15 years.
Low Maintenance
Being stain-resistant is a superpower that not every material possesses. Be it spilled food or liquid, or be it any bodily fluids, none of it can leave a mark on your rubber floors. Grease and oil, the two substances which can however are usually not found near children's facilities.
Inexpensive
Rubber tiles tend to be cheaper than concrete and thus easy to invest into. Simultaneously, poured-in-place surfacing can be a little more expensive but pays for itself with its long life.
Visual Appeal
The visual aesthetic of a kid's care center should be appropriately bright and cheerful, in contrast to the regular white or black colors. Thankfully, these rubber floorings come in several different colors for you to choose from. Thus, enhancing the attractiveness of the place for the child and their parent alike.
While this applies to both kinds of rubber floors, to understand the differences between Rubber Tiling and Poured-In-Place, you can consult our blog on the same as well.
How To Install Rubber Surfacing?
Such flooring can be installed with ease if you know what you are doing. On one hand, there are multiple videos available online to guide you through it alongside the training we provide at our academy. On the other hand though, calling in a professional to help you with the same is also advisable.
The decision is yours as per whatever process suits your needs better.
Wrapping Up
Their children's safety is always the first priority of any parent and every creche around you probably offers all those services that you do. Then how do you distinguish yourself from the likes of them?
It's simple. By taking this extra step that provides another layer of protection to the kids of some very worried parents.
For further information and support, you can also get in touch with our consultants.
So go ahead and have a safe day!